Inimitable Tanzania 2018
Our journey really began with the transfer from Kilimanjaro airport when we were immediately thrown into the interesting and colourful street life, with cattle, goats, markets and scenes of local life. We spent the first night at the beautifully appointed Olerai Bush House on the outskirts of Arusha. (I make special mention here of the super comfy deep mattress). Shem was there to greet us, as was Hannah Strand whose family own this and two of the camps we were to visit. Olerai is set in a beautiful, peaceful garden with birdsong everywhere.
The following day we set off on our adventure. On the way to Tarangire National Park we stopped at a Maasai village where we were warmly welcomed by chief Liobulu. The women soon had us pounding maize and doing bead work. This was followed by the men chanting, jumping and jousting with sticks. The women also sang and, as always, the children stole the show. The experience was rewarding and authentic and provided a valuable insight into Maasai culture.
We continued on into the Park, travelling south to our first camp owned by Hannah's family - Osunyai Lamarkau. The small camp, which takes its name from the swamp it overlooks, was extremely comfortable with excellent food and very friendly staff.
As the long rains had begun, Tarangire was a verdant green landscape, with plains, trees (including many baobabs) and mountains as a backdrop. Because of the red soil colour, the many elephants, for which the park is famous, contrasted wonderfully with the green background. Some youngsters were rolling in the mud at the roadside. Quite close to camp we spotted a male leopard in tree close to the road. As we watched he started calling for a mate, a spine-tingling experience.
The birdlife in the park was prolific, with species including grey-headed and woodland kingfisher, African marsh harrier, long-tailed paradise whydah, grey-headed woodpecker, white headed buffalo weaver, pallid hawk, long toed lapwing, knob-bill and whistling ducks, blue-cheeked bee-eater, European and lilac-breasted rollers, lesser striped swallow, Amur falcon, dark chanting goshawk, magpie shrike and crowned cranes with chicks.
We witnessed a lioness killing a warthog around noon and came across a large termite mound covered in dwarf mongooses. We saw no other vehicles.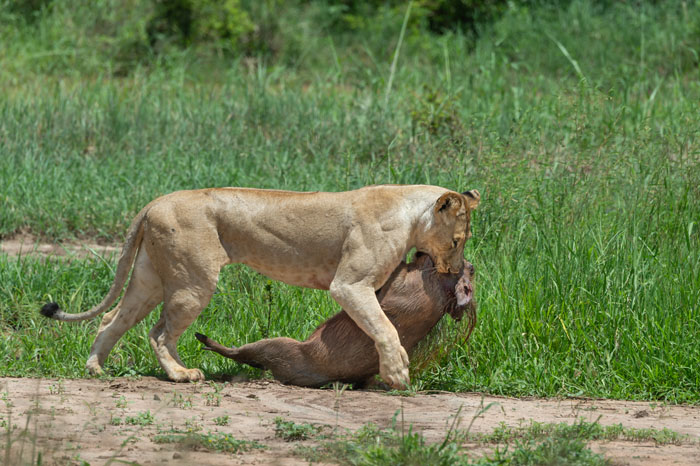 The landscape by the swamp was beautiful with colours through the grasses ranging from reds to bright green and yellow to misty blue. In the late afternoon we found lions and cheetahs in the long grass right beside camp, beautifully lit by the setting sun.
After three nights in Tarangire we departed for Lake Eyasi. We had not gone far when a lioness stepped out on to the road in front of our vehicle. She had blood around her mouth, suggesting she had made a kill. We followed her as she joined a second lioness on the cliff top above the Tarangire River. They began calling and five tiny cubs appeared on the far side of the river which was swollen and flowing fast with all the recent rains. It seemed suicidal for them to take to the water, but after some hesitation they all swam confidently across to join the lionesses.
On the way to the lake we stopped at a busy, vibrant market with lots of good quality fresh fruit and vegetables, as well as almost everything else for the home and the inevitable souvenirs.
We arrived at our second camp, Kisima Ngeda, on the lake shore in the early afternoon. The main focus of our time here was to visit a Mang'ati homestead. Hannah had been working with some of the local women for several years, so we were privileged to spend time with them. They seemed to really enjoy our visit and were willing subjects for our cameras. We were invited into their hut, quite different in construction from those of the Maasai, being long and oblong. It was divided, with sleeping quarters at one end and the rest one long room where everything else happened. Inside there were a few tiny wooden stools, some decorated kalabashes and strings of colourful beads. The women showed us how they grind the maize and produced a fringed and beaded leather garment in the making. The women are given a leather skirt when they marry, which stays with them for the rest of their lives. We also visited the blacksmith's boma and watched him smelting and fashioning a spear head. The neighbouring tribesmen use these for hunting.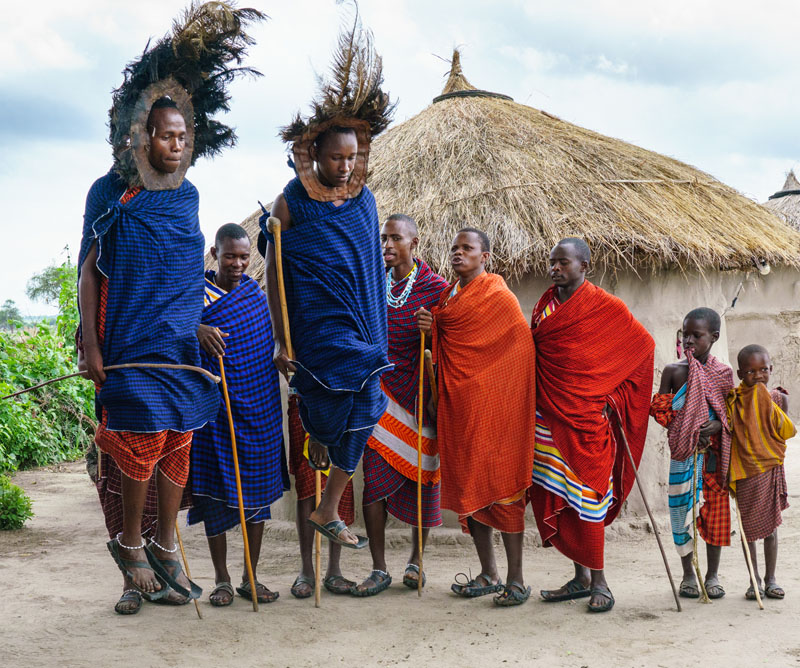 On Easter Sunday we woke at 5.15 for a moonset shoot on the lake shore which didn't quite work on account of the cloud which shrouded the moon at the critical time. However, there were plenty of birds, including grey-headed gulls, yellow billed storks, lesser flamingoes, maribou storks, pelicans and terns to keep us busy. There was one colourful boat on the shore, but the fishermen we saw just waded out into the shallow water with buckets.
We stopped in the village next to camp where the boats and nets were being made, and also photographed the children in their Sunday best.
After two nights in Kisimi Ngeda we set off on the last leg to drive up the escarpment, passing Lake Manyara, on our way to the entrance to the Ngorongoro Conservation Area, where we had an opportunity to spend time in the Visitors' Centre. We drove around the southern rim of the Crater and stopped to admire the view -the crater on the right and looking back to Lake Eyasi on the left. It was quite cold up there at 7000ft. Way below in the crater, amongst a herd of buffalo, were two rhinos, tiny specks on the landscape. Soon afterwards we turned away from the Crater rim towards the Serengeti. The Highlands were lush and green with red soil and many wild flowers in bloom. We caught sight of a mass of red dots and smoke on a distant hillside which turned out to be a huge Maasai outdoor market. Although it was considered inadvisable to take photos, we were able to wander round to view all the wares and colourful handicrafts. One section of the market was given over to barbeques. Whole goats were roasting over large fires. Piles of entrails lay on the ground and one young boy was sitting on a bucket containing two goat heads.
We continued on to find to a picnic spot on a flowery hillside. We spread blankets on the ground and soon attracted an audience of local lads out herding goats.
As we traversed the Ngorongoro Conservation area we came across two lionesses one of which was collared. The first of many wildebeest and zebra were also in evidence.
As we entered the Serengeti we found a lioness on a wildebeest carcass. She seemed rather uneasy. A little further on we found a dark maned male lion and several more lionesses. There were now many more wildebeest, zebra and hyenas. Kori bustards were displaying.
We reached Dulana camp in the southern Serengeti around 6.00pm.
Here in the Serengeti wake up was at 5.10 so that we could be out on the plains at sunrise. On our first morning there was a glorious sunrise and we found a vulture on top of a tree against the colourful dawn sky. We spotted a cheetah quite close to camp. Hyenas and jackals were fighting over a carcass. A honey badger sprinted and disappeared down a hole.
On an evening drive we found a cheetah mum and two cubs only a few yards from camp and were lucky to spend time with them. It seemed all the other camps had packed up for the season, so once again we saw no other vehicles.
On our last full day we drove to some rocky outcrops in the territory of a lion pride. We first spotted a male with a very dirty face on top of the rock. Then a female with two cubs appeared. Almost immediately another lioness with cubs was spotted on a different rocky outcrop. We spent quite some time watching the antics of the cubs and the family interactions.
The rest of the morning provided another honey badger, two side striped jackals, three bat eared foxes, a Verraux's eagle owl in flight, thousands and thousands of wildebeest and zebras, and two grouchy buffalo. That evening we found a tree full of vultures near camp. The reason soon became clear. A male lion with a wildebeest kill was hidden in the undergrowth. Leaving him to his fly infested meal we drove out across the plains to an isolated flat top acacia tree under which a bar had been set out. With hyenas in the distance and a brooding sky, champagne was served. Ol Doinyo Lengai, the Mountain of God, was visible on the horizon, but was soon shrouded in rain clouds. Thunder rumbled and the storm moved towards us. We managed to get back in the vehicles just in time.
Back at camp Shem and Hannah had prepared a wonderful video of our trip which they shared with us. This was followed by a final delicious dinner. Our camp too was packing up as soon as we left. With great reluctance it has to be said, we departed the Serengeti in a Cessna Caravan, flying back to Arusha over the spectacular Ngorongoro Crater.
The definition of inimitable is:
"so good or unusual as to be impossible to copy; unique"
Well this trip came pretty close to fitting that description. Thank you to Shem and Hannah, Henry and Naiman, everyone at all the camps and to the Maasai and Mang'ati, all of whom gave us some truly unforgettable experiences.
Further images from this trip can be found on our websites: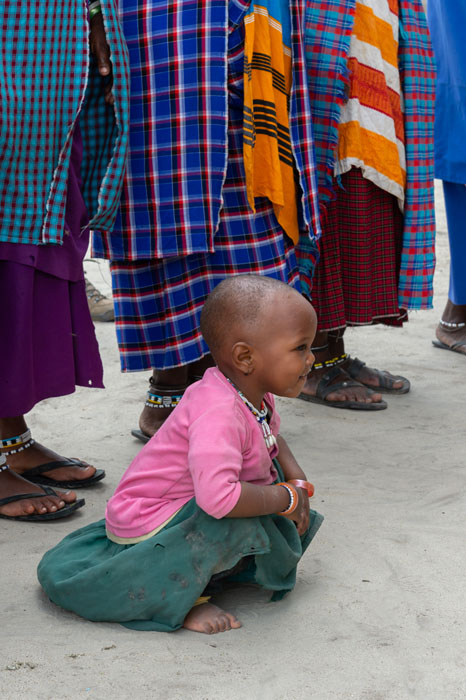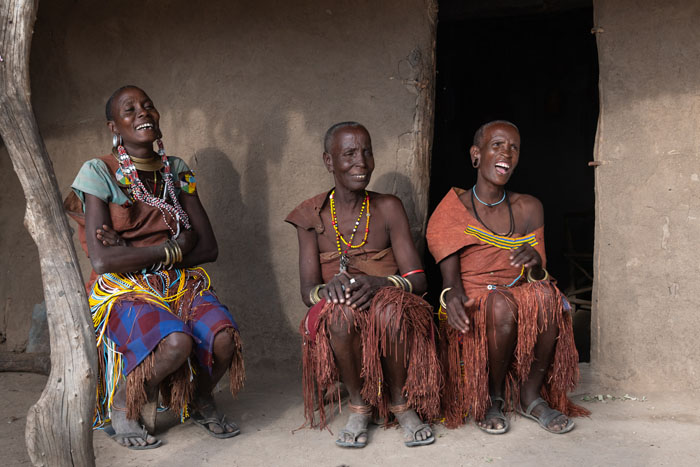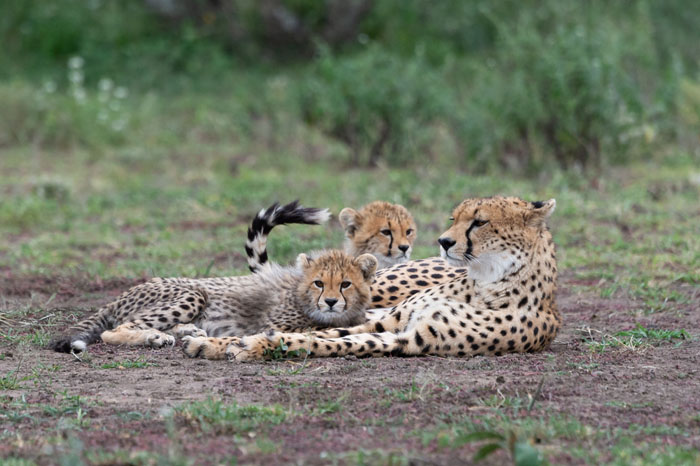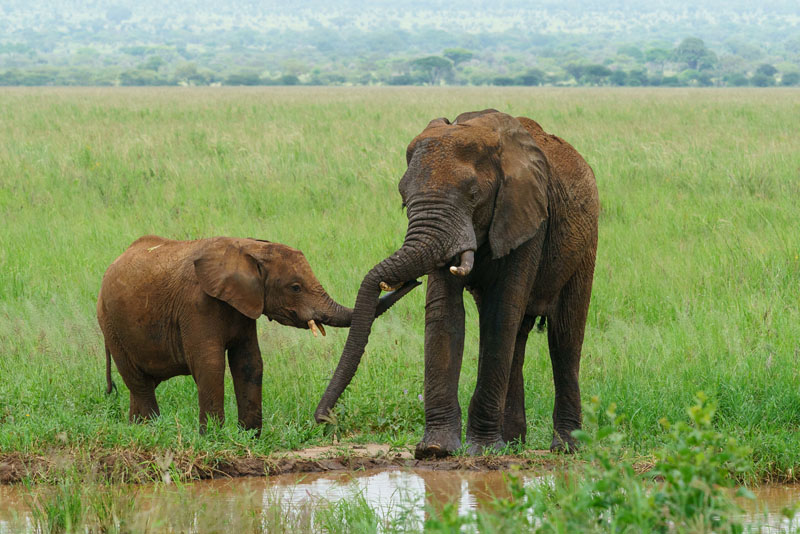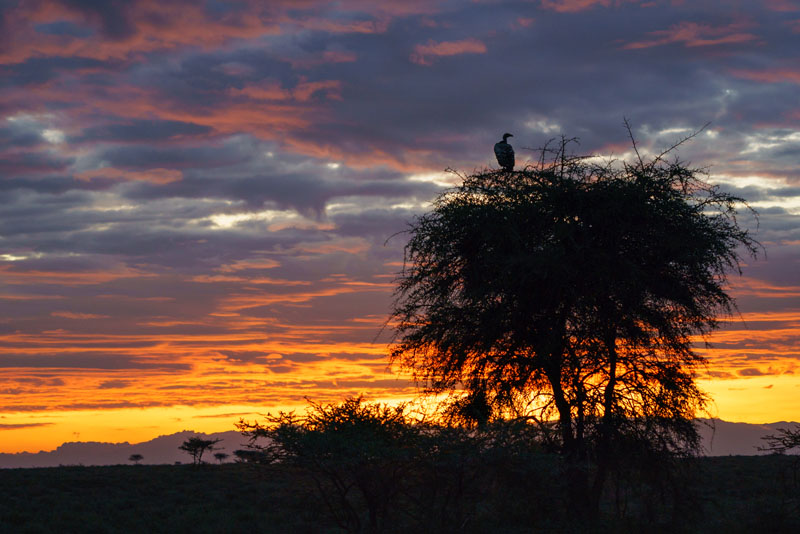 Images and text by: Maggie and Peter, UK